GEMAS – Chemistry of Europe's Agricultural soils, Single element maps, Sr - Strontium
GEMAS (Geochemical Mapping of Agricultural and Grazing Land Soil in Europe) is a cooperative project between the Geochemistry Expert Group of EuroGeoSurveys and Eurometeaux. In total, more than 60 international organisations and institutions worldwide were involved in the implementation of the project. During 2008 and 2009, a total of 2219 samples of agricultural (arable land soils, 0 – 20 cm, Ap samples) and 2127 samples of grazing land (pasture land soils, 0 – 10 cm, Gr samples) soil were collected at a density of 1 site/2 500 km² each from 33 European countries, covering an area of 5,600,000 km². All samples were analysed for 52 chemical elements after an aqua regia extraction, 41 by XRF (total), TC and TOC. In addition, the agricultural soil samples were analysed for 57 elements in a mobile metal ion (MMI®) extraction and Pb isotopes. All analytical results were subject to tight external quality control procedures. The GEMAS project thus provides for the first time fully harmonised data for element concentrations and bioavailability of the elements at the continental (European) scale.
The downloadable files present the areal distribution of the element contents determined by different analytical methods in the shape of colour shaded contour maps with a classification in 7 and 72 levels each.
Simple
Alternate title

GEMAS – Sr
Date (

Publication

)

2021-01-19
Identifier

8b7e3e89-149d-41d3-a017-c4b0b9fdbf28
Status

completed

Completed
GEMET - Concepts, version 4.1.4 (

Theme

)

Atlas
Boden
Landwirtschaft
soil
agriculture
Keywords (

Theme

)

GEMAS
Geochemie
Geochemische Karte
Ackerlandboden
Weidelandboden
Elementkonzentration
flächenhafte Verteilung
geochemistry
geochemical map
arable land soil
pasture land soil
element concentration
spatial distribution
Sr
Strontium
Keywords (

Place

)
Access constraints

Other restrictions
Use constraints

Other restrictions
Other constraints

Allgemeine Geschäftsbedingungen, s. https://www.bgr.bund.de/agb - General Terms and Conditions, s. https://www.bgr.bund.de/agb_en
Spatial representation type

Grid
Spatial representation type

Vector
Denominator

25000000
Metadata language

eng

English
Character set

utf8

UTF8
Topic category

Geoscientific information
Hierarchy level

Dataset
Conformance result
Date (

Publication

)

2010-12-08
Explanation

siehe dazu die angegebene Durchführungsbestimmung
Statement

Reimann, C., Birke, M., Demetriades, A., Filzmoser, P. & O'Connor, P. (eds.) (2014): Chemistry of Europe's Agricultural Soils, Part A: Methodology and Interpretation of the GEMAS Data Set. (Geologisches Jahrbuch). Vol. B 102: p. 523; Stuttgart (Schweizerbart Science Publishers).

The GEMAS Project Team: S. Albanese, M. Andersson, R. Baritz, M.J. Batista, A. Bel-Ian, D. Cicchella, B. De Vivo, W. De Vos, M. ?uriš, A. Dusza-Dobek, O.A. Eggen, M. Eklund, V. Ernsten, P. Filzmoser, D.M.A. Flight, S. Forrester, U. Fügedi, A. Gilcucis, V. Gregorauskiene, W. De Groot, A. Gulan, E. Haslinger, P. Hayoz, J. Hoogewerff, H. Hrvatovic, S. Husnjak, L. Janik, G. Jordan, M. Kaminari, J. Kirby, V. Klos, P. Kwe?ko, L. Kuti, A. Lima, J. Locutura, P. Lucivjansky, A. Mann, D. Mackovych, M. McLaughlin, B. I. Malyuk, R. Maquil, R.G. Meuli, G. Mol, P. Négrel, P. O'Connor, R.T. Ottesen, A. Pasnieczna, V. Petersell, S. Pfleiderer, M. Po?avi?, C. Prazeres, S. Radusinovi?, I. Salpeteur, R. Scanlon, A. Schedl, A. Scheib, I. Schoeters, P. Šef?ik, E. Sellersjö, I. Slaninka, J.M. Soriano-Disla, A. Šorša, R. Svrkota, T. Stafilov, T. Tarvainen, V. Tendavilov, P. Valera, V. Verougstraete, D. Vidojevi?, Z. Zomeni, A. Zissimos
gmd:MD_Metadata
File identifier

4e1a32ba-d56b-4ad6-a298-71ec4fd955ec  

XML
Metadata language

German
Character set

utf8

UTF8
Parent identifier

1094c5fd-bd58-466e-a309-412bb7636eec
Hierarchy level

dataset

Dataset
Hierarchy level name

Geochemie
Date stamp

2021-01-19
Metadata standard name

INSPIRE Metadata Implementing Rules: Technical Guidelines based on EN ISO 19115 and EN ISO 19119
Metadata standard version

n/a
Overviews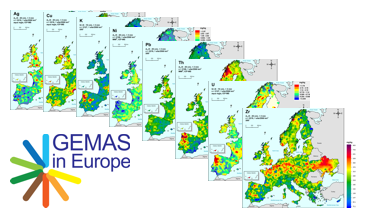 Provided by
4e1a32ba-d56b-4ad6-a298-71ec4fd955ec
  Access to the portal
Read here the full details and access to the data.
Associated resources
Not available