Processed seismic data of Cruise BGR16-2 2016
The major pre-alpine tectonic lineaments as the Glückstadt Graben and the Avalonia-Baltica suture zone run across the southern Baltic. The BalTec expedition aimed at the gapless imaging of these fault systems from the seafloor down to the Paleozoic basement. Scientifically the expedition was motivated by two hypotheses. We postulated that advances and retreats of icesheets during the glacials initiated and reactivated faulting of the Post-Permian succession, thereby generating several kilometers long near-vertical faults and anticlines. We further postulated that – in contrast to the generally accepted text book models – deformation of the initially up to 1800 m thick Zechstein salt started already during salt deposition as the consequence of salt load induced basin subsidence and resulting salt creep. The profile network was further designed to allow for linking the stratigraphy between previously generated local underground models in the frame of the TUNB project. Altogether we collected during cruise MSM52 onboard of R/V Maria S. Merian 62 reflection seismic profiles of an entire length of 3500 km. This data set contains all seismic lines located in the German EEZ (lines BGR16-212 to BGR16-264) as time-migrated version.
Identification
Data identification
Citation
Alternate title

BGR16-2 2016
Date (

Creation

)

2016-03-28
Date (

Revision

)

2023-08-28
Date (

Publication

)

2018-03-27
Identifier

5f66564a-10c9-205f-4e46-661397847638
Identifier
Status

completed

Completed
GEMET - INSPIRE themes, version 1.0 (

Theme

)
GEMET - Concepts, version 2.4 (

Theme

)

geophysics
Geophysik
raw material
Rohstoff
Keywords (

Theme

)

Marine geology
Meeresgeologie
Seismics
Seismik
Two-dimensional seismic reflection
zweidimensionale Reflektionsseismik
Keywords (

Place

)
Legal constraints
Access constraints

Other restrictions
Legal constraints
Use constraints

Other restrictions
Other constraints

Allgemeine Geschäftsbedingungen, siehe http://www.bgr.bund.de/AGB - General terms and conditions, see http://www.bgr.bund.de/AGB_en. Die bereitgestellten Informationen sind bei Weiterverwendung wie folgt zu zitieren: Datenquelle: BGR16-2 2016, (c) BGR, Hannover, 2018
Spatial representation type

Vector
Metadata language

English
Character set

UTF8
Topic category

Geoscientific information
Quality
Data quality
Conformance result
Citation
Date (

Publication

)

2010-12-08
Explanation

siehe dazu die angegebene Durchführungsbestimmung
Statement

During the period from the 1st March to the 28th March 2016 BGR acquired seismic lines in the Baltic Sea. The lines BGR16-200d, BGR16-201 to BGR16-211 and BGR16-233 consist of raw data. The lines BGR16-212 to BGR16-264 (with exception of profile BGR16-233 with raw data) are migrated data.
Metadata
Metadata
File identifier

128e35d3-9caa-4039-988e-2a83c53efa0d  

XML
Metadata language

English
Character set

UTF8
Parent identifier

06a73c56-06a2-40d8-b806-466222b0760d
Hierarchy level

Dataset
Hierarchy level name

Geophysik
Date stamp

2023-09-15
Metadata standard name

INSPIRE Metadata Implementing Rules: Technical Guidelines based on EN ISO 19115 and EN ISO 19119
Metadata standard version

n/a
Overviews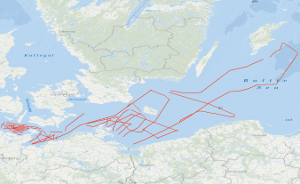 Provided by
128e35d3-9caa-4039-988e-2a83c53efa0d
  Access to the portal
Read here the full details and access to the data.
Associated resources
Not available