Points of Interest Bundespolizei
Points of Interest zu den Themen Berufsfeuerwehren, Botschaften und Konsulate, Bundesbehörden, Bundespolizei, Gerichte, Hochschulen, Justizvollzugsanstalten, Kfz-Zulassungsstellen, Kindertagesstätten, Krankenhäuser und Reha-Einrichtungen, oberste und obere Landesbehörden, Landespolizei, nationale Referenzzentren und Konsiliarlabore, Postfilialen, allgemeinbildende Schulen, berufsbildende Schulen, Seniorenheime, Staatsanwaltschaften, Tankstellen, Technisches Hilfswerk, UN-Organisationen und Zoll für das Gebiet der Bundesrepublik Deutschland. Außerdem ist das Zentrale Adress- und Kommunikationsverzeichnis (ZAK) der Bundespolizei enthalten. Die Georeferenzierung der verwendeten Adresslisten erfolgt über die Georeferenzierten Adressdaten (GA) mit dem Geocodierungsdienst des BKG. Bei den verwendeten Adressen handelt es sich um die Haus-/Postanschrift der jeweiligen Einrichtung, falls nicht anders vermerkt. Aktualität der Daten: 2016-2019, abhängig vom Thema. Details siehe Produktbeschreibung.
Identification
Data identification
Citation
Alternate title

POI-Bpol
Date (

Creation

)

2016-12-31T00:00:00.000+01:00
Date (

Revision

)

2019-12-31T00:00:00.000+01:00
Status

On going
Maintenance information
Maintenance and update frequency

Annually
Update scope

Dataset
GEMET - Concepts, version 3.1 (

Theme

)
Keywords

Verwaltungsbehörde
ZAK
Konsiliarlabor
Nationales Referenzzentrum
BKG
Kindertagesstätte
Berufsschule
Zoll
Technisches Hilfswerk
Landespolizei
Reha-Einrichtung
Konsulat
Justizvollzugsanstalt
Botschaft
Berufsfeuerwehr
Hochschule
Bundespolizei
Bundesbehörde
POI
Vereinte Nationen
Schule
Feuerwehr
Landesbehörde
Staatsanwaltschaft
Krankenhaus
Gericht
Polizei
Postfiliale
Post
Seniorenheim
Use limitation

keine Einschränkungen
Legal constraints
Use constraints

otherRestrictions

Other restrictions
Other constraints

Die Daten sind urheberrechtlich geschützt. Auf Grundlage des Vertrages mit dem Datenanbieter werden die Geodaten je nach vertraglicher Ausgestaltung allen oder ausgewählten Bundesbehörden und weiteren Nutzungsberechtigten (z.Bsp. Zuwendungsempfängern des Bundes) zur Verfügung gestellt. Bei Interesse wenden Sie sich bitte an das Dienstleistungszentrum (DLZ) des Bundesamt für Kartographie und Geodäsie: https://www.bkg.bund.de/DE/Service/Kontakt/kontakt.html. Der Quellenvermerk ist zu beachten.
Spatial representation type

Vector
Metadata language

German
Character set

UTF8
Topic category
Extent
Geographic description
Extent type code

true
Geographic identifier

Raumbezug des Datensatzes
Geographic description
Extent type code

true
Geographic identifier

DEU
Quality
Data quality
Hierarchy level

Dataset
Lineage
Statement

basiert auf geocodierten Adresslisten aus offiziellen Quellen oder aus Eigenrecherche im Internet
Description

Geocodierung von Adresslisten
Metadata
Metadata
File identifier

2fd699d8-36b2-4801-85ea-99d8abbc55fd  

XML
Metadata language

ger

German
Character set

UTF8
Hierarchy level

dataset

Dataset
Date stamp

2020-03-11
Metadata standard name

ISO19115
Metadata standard version

2003/Cor.1:2006
Overviews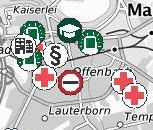 Provided by

2fd699d8-36b2-4801-85ea-99d8abbc55fd
  Access to the portal
Read here the full details and access to the data.
Associated resources
Not available