Processed seismic data of Cruise BGR11 2011
From 1st May to 25th May 2011 the French Institute from Brest Institut Français de Recherche pour l'Exploitation de la Mer (IFREMER) together with BGR conducted a scientific cruise on the IFREMER research vessel L'ATALANTE, which constitutes the 1st leg of the MIRROR survey. In order to acquire supplementary marine geophysical research data to the MIRROR scientific survey a 2nd leg was performed from 2nd June to 11th June 2011. Both legs are spread over the shelf edge and slope of Morocco, the adjacent Essaouira Rise, and the easternmost abyssal plain, and are located between 33°30' N and 30°30' N. The region of MIRROR Leg 2 is situated south of Leg 1. The main research objectives were to image the deep structure of the crust, to test the origin of the magnetic anomaly S1, and to test rifting models in order to understand the nature of the continental margin of Morocco as well as the opening history of the Atlantic Ocean. Another objective was to realize a comprehensive sediment basin analysis for specifying the hydrocarbon potential of the region. In total multi-channel seismic lines with a length of 1,391 km and additional 271 km with the other geophysical methods (magnetic field measurements as well as bathymetry) were acquired. The seismic data acquired during Leg 2 were processed onboard and two of the lines were interpreted. Line BGR11-208 traverses from DSDP Site 415 to Site 416 and ties the MCS grids of both MIRROR legs as well as other former MSC surveys of BGR. Therefore, the line enables a reliable regional seismostratigraphic interpretation and a moderately well mapping of the Jurassic, Cretaceous, and Cenozoic sequences. Large compressional structures are present in the sedimentary cover along the seismic line pointing to transform faults or an activated fracture zone. Regarding the NWW-SEE trending line BGR11-202 the area of investigation can be subdivided into three structural units, a zone of rifted continental margin, a zone of initial seafloor spreading, and a zone of regular seafloor spreading as well as post-Cretaceous igneous activity. Huge rotated basement blocks are located under the shelf and uppermost slope and striking salt domes at the lowermost slope. The zone of initial seafloor spreading is characterized by a sub-basement reflector with overlying tilted basement blocks. The sub-basement reflector trends generally horizontal and appears to be a detachment fault. The magnetic slope anomaly S1 is located at foot of the slope near the western boundary of the zone of rifted continental margin.
Simple
Alternate title

BGR11 2011
Date (

Creation

)

2011-06-11
Identifier

32afe620-5b29-03fa-fc4e-79e669ac59d5
Status

completed

Completed
GEMET - INSPIRE themes, version 1.0 (

Theme

)
GEMET - Concepts, version 2.4 (

Theme

)

geophysics
Geophysik
raw material
Rohstoff
Keywords (

Theme

)

Marine geology
Meeresgeologie
Seismics
Seismik
Two-dimensional seismic reflection
zweidimensionale Reflektionsseismik
Keywords (

Place

)

Nordostatlanik
Northeast Atlantic Ocean
Morocco
Marokko
West Africa
Westafrika
Access constraints

Other restrictions
Use constraints

Other restrictions
Other constraints

Allgemeine Geschäftsbedingungen, siehe http://www.bgr.bund.de/AGB - General terms and conditions, see http://www.bgr.bund.de/AGB_en. Die bereitgestellten Informationen sind bei Weiterverwendung wie folgt zu zitieren: Datenquelle: BGR11 2011, (c) BGR, Hannover, 2018
Spatial representation type

Vector
Metadata language

English
Character set

UTF8
Topic category

Geoscientific information
Hierarchy level

Dataset
Conformance result
Date (

Publication

)

2010-12-08
Explanation

siehe dazu die angegebene Durchführungsbestimmung
Statement

During the period from the 2nd of June to the 11th of June 2011 BGR acquired seismic lines off Morocco. The lines BGR11-201, BGR11-202, BGR11-203, BGR11-204, BGR11-205, BGR11-206 and BGR11-208 consist of migrated data. The short profile BGR11-207 consists of raw data.
gmd:MD_Metadata
File identifier

6ec24718-f8ac-48c1-8eee-a5ade99e9116  

XML
Metadata language

English
Character set

UTF8
Parent identifier

06a73c56-06a2-40d8-b806-466222b0760d
Hierarchy level

Dataset
Hierarchy level name

Geophysik
Date stamp

2023-11-16
Metadata standard name

INSPIRE Metadata Implementing Rules: Technical Guidelines based on EN ISO 19115 and EN ISO 19119
Metadata standard version

n/a
Overviews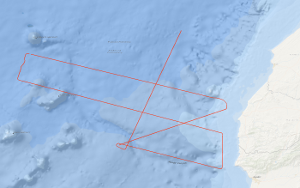 Provided by
6ec24718-f8ac-48c1-8eee-a5ade99e9116
  Access to the portal
Read here the full details and access to the data.
Associated resources
Not available