Processed seismic data of Cruise SO81 PAKOMAR2 1992
The structure and tectonics of the Pacific margin of Costa Rica were studied by multichannel seismic measurements in parallel with gravity measurements and swathmapping from the Cocos Ridge to Nicoya Peninsula during R/V SONNE cruise SO81 legs 1 and 2 from 18th August to 15th September 1992. In addition geological sampling has been carried out. Dominant structural feature is the buried Costa Rica Terrrane (CRT), a complex and segmented, wedge-shaped unit characterized by relative high seismic velocities of 4 km/s. The thickness of this several tens of kilometres wide zone varies between 0.5 and 3 s (twt). The CRT forms the backstop against which the sediments of the subducting Cocos plate accrete resulting in accumulation of sedimentary mass beneath and in front of the CRT, as well as in simultaneous uplift and fracturing of the CRT. It appears that the distinct CRT is affected locally by raft tectonics, i.e. a form of thin-skinned extension by normal faulting from gravity sliding over a non-stretched oceanic crust. A unit is recognizable between the base of the CRT and the surface of the subducting oceanic crust on most of the seismic lines. This unit is thought to consist mostly of ductile pelagic to hemipelagic shales. Some segment boundaries of the CRT are associated with morphological furrows, 5 to 10 km wide and up to 30 km long running across the slope. We feel that the data acquired during SONNE cruise SO81, and the preliminary results at hand have already improved our knowledge on the geological processes of active continental margins. We are convinced that plausible concepts for the origin of tsunamis and asperities can be developed on the basis of the data collected during SONNE cruises SO81 and SO76. The research of both SONNE cruises are a contribution to the International Decade of Natural Desaster Reduction (IPNDR).
Simple
Alternate title

SO81 PAKOMAR2 1992
Date (

Creation

)

1992-09-15
Identifier

1d294f44-e91b-6e7a-2509-daaa10db4918
Status

completed

Completed
GEMET - INSPIRE themes, version 1.0 (

Theme

)
GEMET - Concepts, version 2.4 (

Theme

)

geophysics
Geophysik
raw material
Rohstoff
Keywords (

Theme

)

Marine geology
Meeresgeologie
Seismics
Seismik
Two-dimensional seismic reflection
zweidimensionale Reflektionsseismik
Keywords (

Place

)

Northeast Pacific Ocean
Nordost-Pazifik
Costa Rica
Access constraints

Other restrictions
Use constraints

Other restrictions
Other constraints

Allgemeine Geschäftsbedingungen, siehe http://www.bgr.bund.de/AGB - General terms and conditions, see http://www.bgr.bund.de/AGB_en. Die bereitgestellten Informationen sind bei Weiterverwendung wie folgt zu zitieren: Datenquelle: SO81 PAKOMAR2 1992, (c) BGR, Hannover, 2018
Spatial representation type

Vector
Metadata language

English
Character set

UTF8
Topic category

Geoscientific information
Hierarchy level

Dataset
Conformance result
Date (

Publication

)

2010-12-08
Explanation

siehe dazu die angegebene Durchführungsbestimmung
Statement

During the period from 18th August to 15th September 1992 BGR acquired seismic lines off the Pacific coast of Costa Rica. Lines SO81-01A, SO81-12, SO81-12A, SO81-19A, SO81-20 and SO81-21A consist of raw data. Lines SO81-01, SO81-02, SO81-03, SO81-04, SO81-05, SO81-06, SO81-07, SO81-07A, SO81-08, SO81-09, SO81-10, SO81-11, SO81-13, SO81-14, SO81-15, SO81-16, SO81-17, SO81-17A, SO81-18 and SO81-21 consist of stacked data.
gmd:MD_Metadata
File identifier

96e63f4f-ba23-4539-9236-05c39258a88b  

XML
Metadata language

English
Character set

UTF8
Parent identifier

06a73c56-06a2-40d8-b806-466222b0760d
Hierarchy level

Dataset
Hierarchy level name

Geophysik
Date stamp

2023-11-16
Metadata standard name

INSPIRE Metadata Implementing Rules: Technical Guidelines based on EN ISO 19115 and EN ISO 19119
Metadata standard version

n/a
Overviews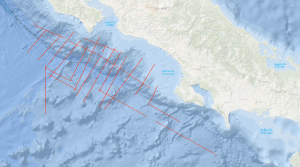 Provided by
96e63f4f-ba23-4539-9236-05c39258a88b
  Access to the portal
Read here the full details and access to the data.
Associated resources
Not available