Jordan - Al Zaatari - Refugee Camp as of January 03, 2013 - Reference Map
The map shows the Al Zaatari refugee camp in Jordan. It is situated approx. 12 km from the Syrian border and in close proximity to the city of Al Mafraq (10 km). The camp was set up on July 28, 2012 to shelter refugees fleeing the conflict in Syria. The vector data have been digitized on the basis of WorldView-2 satellite data (0.5m spatial resolution) acquired on January 03, 2013. The results have not been validated in the field. WorldView-2 satellite data acquired on January 03, 2013 is used as backdrop. The products elaborated for this Rapid Mapping Activity are realised to the best of our ability, within a very short time frame, optimising the material available. All geographic information has limitations due to the scale, resolution, date and interpretation of the original source materials. No liability concerning the content or the use thereof is assumed by the producer. The ZKI crisis maps are constantly updated. Please make sure to visit
http://www.zki.dlr.de
for the latest version of this product.
Simple
Date (

Creation

)

2013-01-08
Date (

Revision

)

2013-01-08
Date (

Publication

)

2013-01-08
Maintenance and update frequency

As needed
GEMET - INSPIRE themes, version 1.0 (

Theme

)
Keywords (

disaster

)
Keywords (

product

)

Additional - Refugee / IDP - Contextual
Keywords

DLR
EOC
ZKI
Crisis Information
Use limitation

The products elaborated for this Rapid Mapping Activity are realised to the best of our ability, within a very short time frame, during a crisis, optimising the material available. All geographic information has limitations due to the scale, resolution, date and interpretation of the original source materials. No liability concerning the content or the use thereof is assumed by the producer. Product is optimized for Din A1 printing.
Use limitation

License, use limitations and references according to the framework contract between the German Federal Ministry of the Interior (BMI) and DLR for ZKI products.
Access constraints

Other restrictions
Other constraints

no limitations on public access
Denominator

7500
Distance

0.5  m
Metadata language

English
Character set

UTF8
Topic category

Geoscientific information
Reference system identifier

32637

 

Date (

Publication

)

2010-03-31

Edition

7.5
Hierarchy level

Dataset
Statement

The Center for Satellite Based Crisis Information (ZKI) produced this product by satellite analyses in the context of the framework contract between BMI and DLR. Quality Disclaimer: This product is a standard product in line with the ZKI portfolio and/or with the mapping guidelines current at time of production. Data sources: WorldView-2 © European Space Imaging 2013
Description

Vector data creation by manual interpretation and digitization of WorldView-2 data of January 03, 2013
Description

Map compilation and cartographical enhancement
Description

Product generation using ArcGIS 10.1, SP1, ZKI Export Tool 0.1
Description

Quality Status: This product has undergone and passed internal QC
gmd:MD_Metadata
File identifier

a65da246-c268-5d54-8a69-e75fe43163f5  

XML
Metadata language

English
Character set

UTF8
Hierarchy level

Dataset
Date stamp

2023-01-18T14:11:08.29Z
Metadata standard name

ISO 19115:2003/19139
Metadata standard version

1.0
Overviews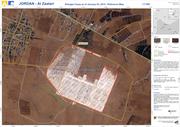 Provided by

a65da246-c268-5d54-8a69-e75fe43163f5
  Access to the portal
Read here the full details and access to the data.
Associated resources
Not available