Processed seismic data of Cruise BGR96 1996
The BGR Antarctic cruise 1996 from 29th December 1995 to 6th February 1996 with M.S. AKADEMIK NEMCHINOV was designed to acquire new marine geophysical data for a better understanding of the geological processes, timing, occurrence and location of rifts of the initial break-up of southern Gondwanaland. A total of 3,836 km of multichannel seismic reflection data have been collected in the areas of the Cosmonaut Sea, the Astrid Ridge, the Lazarev Sea and the southern Agulhas Plateau in parallel with magnetic and gravity measurements. In addition magnetic and gravity measurements were carried out on transit. Major new observations of the collected MCS data include: (1) Volcanic rocks play a major part in the construction of the Astrid Ridge and also of the Agulhas Plateau. (2) The early opening of the Lazarev Sea was associated with excessive volcanism resulting in the emplacement of a voluminous volcanic body characterized by an internally divergent pattern of seaward-dipping reflectors. (3) The Astrid Fracture Zone continues in form of a sediment-filled basement depression flanked by distinct basement highs into the Lazarev Sea, and apparently swings to the west parallel to the coast of Queen Maud Land. (4) The thickness of sediments in the Cosmonaut Sea overlying oceanic crust of inferred Early Cretaceous age is in excess of 4s (twt), i.e. about 6,000 m. Three regional seismic markers of inferred Cretaceous, Late Eocene-Oligocene and Middle Miocene ages subdivide the sedimentary column.
Simple
Alternate title

BGR96 1996
Date (

Creation

)

1996-02-06
Identifier

cd0d505f-aeaf-a69c-274b-c26e54fef34e
Status

completed

Completed
GEMET - INSPIRE themes, version 1.0 (

Theme

)
GEMET - Concepts, version 2.4 (

Theme

)

geophysics
Geophysik
raw material
Rohstoff
Keywords (

Theme

)

Marine geology
Meeresgeologie
Seismics
Seismik
Two-dimensional seismic reflection
zweidimensionale Reflektionsseismik
Keywords (

Place

)

Agulhas Plateau
Lazarev Sea
Lasarew See
Access constraints

Other restrictions
Use constraints

Other restrictions
Other constraints

Allgemeine Geschäftsbedingungen, siehe http://www.bgr.bund.de/AGB - General terms and conditions, see http://www.bgr.bund.de/AGB_en. Die bereitgestellten Informationen sind bei Weiterverwendung wie folgt zu zitieren: Datenquelle: BGR96 1996, (c) BGR, Hannover, 2019
Spatial representation type

Vector
Metadata language

English
Character set

UTF8
Topic category

Geoscientific information
Hierarchy level

Dataset
Conformance result
Date (

Publication

)

2010-12-08
Explanation

siehe dazu die angegebene Durchführungsbestimmung
Statement

During the period from 29th December 1995 to 6th February 1996 BGR acquired seismic lines at the Agulhas Plateau and in the Lazarev Sea. The lines BGR96-002A, BGR96-003 and BGR96-005 consist of raw data. The lines BGR96-001, BGR96-002, BGR96-004, BGR96-005A, BGR96-006, BGR96-007, BGR96-008, BGR96-009, BGR96-010, BGR96-011, BGR96-012, BGR96-013, BGR96-013A, BGR96-014, BGR96-015, BGR96-015A, BGR96-016 and BGR96-100 are stacked data.
gmd:MD_Metadata
File identifier

b5e7177d-7cab-44cc-bb72-b4c24fcf3f5e  

XML
Metadata language

English
Character set

UTF8
Parent identifier

06a73c56-06a2-40d8-b806-466222b0760d
Hierarchy level

Dataset
Hierarchy level name

Geophysik
Date stamp

2023-11-14
Metadata standard name

INSPIRE Metadata Implementing Rules: Technical Guidelines based on EN ISO 19115 and EN ISO 19119
Metadata standard version

n/a
Overviews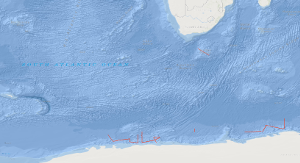 Provided by
b5e7177d-7cab-44cc-bb72-b4c24fcf3f5e
  Access to the portal
Read here the full details and access to the data.
Associated resources
Not available