Processed seismic data of Cruise SO104 CINCA 1995
The CINCA marine geoscience investigations on the convergent continental margin of Chile between 19°S and 33°30'S were accomplished during three legs of RV SONNE cruise SO-104, from 22. July to 15. October 1995. The objectives of the first leg are to contribute to an understanding of the geological architecture and of the tectonic mechanism in the area of the Chile convergent zone through a geophysical assessment of the tectonic structures of the Chile continental margin and the adjacent oceanic Nazca plate. During the first leg from 22. July to 24. August 1995 multichannel seismic reflection data with BGR's new digital streamer were collected along a systematic grid with a total traverse length of 4,494 km simultaneously with the acquisition of magnetic, gravimetric, Hydrosweep and Parasound data over a total traverse length of 7,012 km. GFZ's mobile land array of 12 seismic stations recorded the air gun shots fired by RV SONNE within the CINCA area. Three seismic lines were surveyed between 32°30'S and 33°30'S in the area of the CONDOR project. Here, the surface of the downbending oceanic crust is smooth. The 5,000 m to 6,000 m deep trench floor is underlain by sediments, in excess 2,500 m thick. The inner trench slope consists of a landward thickening accretionary wedge which terminates against a body forming the base of a fore arc basin near Valparaiso. The principal area of the CINCA project extends between 19°S and 26°S and comprises the convergent continental margin, the Peru-Chile trench and the seaward adjacent part of the Nazca plate up to approximately 75°W longitude. The tectonic regime of these units of the CINCA area is very different from the tectonic system of the respective units of the CONDOR area. The Eocene-aged and sediment-starved oceanic crust of the Nazca plate becomes blockfaulted when approaching the outer trench slope break. The 50 km to 70 km wide outer trench slope is characterized by a complex system of horst and graben structures in the CINCA area probably resulting from the strong downbending. Steep fault scarps forming the flanks of the horsts reach vertical offsets varying between few hundreds of metres to 1,000 m, and locally even more. The 7,000 m to 8,l00 m deep trench is very narrow and mostly sediment-starved in the CINCA area. Morphology and architecture of the continental margin of the CINCA area are controlled by planar and listric faulting and tilted blocks of inferred continental nature, which apparently slid down into the trench. The inferred continental blocks, overlying a reflective mass, are covered by sediments of presumably turbiditic nature. An accretionary wedge is difficult to define on the seismic single channel records from the CINCA area. However, processed seismic data show a deep reflective mass underlying the downfaulted blocks of inferred continental nature. This deep reflective mass is interpreted to consist of a tectonically eroded and underplated continental crust-basalt melange forming the transition between the downfaulted continental upper plate and the subducting oceanic lower plate. Complex structural highs of still unknown origin and nature have been observed on the upper continental slope at 20°S, 24°S and 25°S. The northernmost structural high represents the seaward termination of the Iquique fore arc basin. The accuracy of the acquired gravity and bathymetric data is very good, i.e. better than 1 mGal and less than 10 m. The Chile trench is associated with strong negative gravity anomalies, and the continental margin is characterized by several positive and negative gravity anomalies of varying size and amount. The first results of magnetic modeling show, that the intensive blockfaulting of the oceanic crust across the outer trench slope causes no loss of the magnetization of the oceanic crust. The air gun shots fired by RV SONNE in 50 m intervals along 17 seismic traverses were recorded by GFZ's mobile land array in the coastal area of Chile. Good quality data were obtained out to about 100 km distance and in some cases even out to about 150 km.
Simple
Alternate title

SO104 CINCA 1995
Date (

Creation

)

1995-08-24
Identifier

eed9b6f2-ac36-feb3-a42d-081fd7a8335e
Status

completed

Completed
GEMET - INSPIRE themes, version 1.0 (

Theme

)
GEMET - Concepts, version 2.4 (

Theme

)

geophysics
Geophysik
raw material
Rohstoff
Keywords (

Theme

)

Marine geology
Meeresgeologie
Seismics
Seismik
Two-dimensional seismic reflection
zweidimensionale Reflektionsseismik
Keywords (

Place

)

Southeast Pacific Ocean
Südost-Pazifik
Chile
Access constraints

Other restrictions
Use constraints

Other restrictions
Other constraints

Allgemeine Geschäftsbedingungen, siehe http://www.bgr.bund.de/AGB - General terms and conditions, see http://www.bgr.bund.de/AGB_en. Die bereitgestellten Informationen sind bei Weiterverwendung wie folgt zu zitieren: Datenquelle: SO104 CINCA 1995, (c) BGR, Hannover, 2018
Spatial representation type

Vector
Metadata language

English
Character set

UTF8
Topic category

Geoscientific information
Hierarchy level

Dataset
Conformance result
Date (

Publication

)

2010-12-08
Explanation

siehe dazu die angegebene Durchführungsbestimmung
Statement

SO104-02, SO104-03, SO104-06, SO104-10, SO104-13, SO104-15, SO104-19, SO104-23, SO104-24, SO104-24A, SO104-25, SO104-28 and SO104-29 consist of raw data. Lines SO104-05, SO104-07, SO104-08, SO104-09, SO104-11, SO104-12, SO104-16, SO104-17, SO104-18 and SO104-20 consist of stacked data. Lines SO104-22, SO104-026 and SO104-27 are migrated data.
gmd:MD_Metadata
File identifier

e40152d2-d11c-402a-bf84-81d2f3225205  

XML
Metadata language

English
Character set

UTF8
Parent identifier

06a73c56-06a2-40d8-b806-466222b0760d
Hierarchy level

Dataset
Hierarchy level name

Geophysik
Date stamp

2023-11-16
Metadata standard name

INSPIRE Metadata Implementing Rules: Technical Guidelines based on EN ISO 19115 and EN ISO 19119
Metadata standard version

n/a
Overviews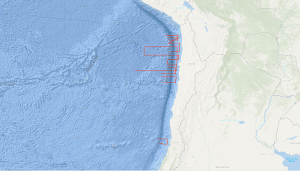 Provided by
e40152d2-d11c-402a-bf84-81d2f3225205
  Access to the portal
Read here the full details and access to the data.
Associated resources
Not available