CORINE Land Cover 2006 - Germany
The objective of the pan-European project CORINE Land Cover (CLC) is the provision of a unique and comparable data set of land cover for Europe and the delivery of regular updates to register also the land cover and land use changes over time. It is part of the European Union programme CORINE (Coordination of Information on the Environment). The mapping of the land cover and land use was performed on the basis of satellite remote sensing images. The first CLC data base CLC1990, which was finalized in the 1990s, consistently provided land use information comprising 44 classes, out of which 37 classes are relevant in Germany. The first two updates for Europe were based on the reference years 2000 and 2006. For Germany, DLR-DFD was responsible for the creation of CLC2000 and CLC2006 on behalf of the Federal Environment Agency. In addition to the updated land cover, change datasets were also parts of the project. For deriving a meaningful CLC2000 change product, it became necessary to re-interprete parts of the satellite data of 1990 and to create a revised product, called CLC1990 (rev).
Further details:
http://www.dlr.de/eoc/en/desktopdefault.aspx/tabid-11882/20871_read-48836/
Simple
Date (

Creation

)

2015-01-29T00:00:00
Edition
Presentation form

Digital map
Credit

The CLC2006 project in Germany was executed by DLR-DFD using financial support by DG Regio and the German Federal Ministry for the Environment, Nature Conservation and Nuclear Safety (BMU) on behalf of the German Federal Environmental Agency (UBA), projects no. UBA FKZ 3707 12 200 and UBA FKZ 3708 12 200.
Status

Completed
Maintenance and update frequency

Not planned
GEMET - INSPIRE themes, version 1.0 (

Theme

)
Keywords
Keywords
Keywords
Use limitation

Nutzungseinschränkungen: DLR not liable for damage resulting from use
Access constraints

Restricted
Use constraints

Other restrictions
Other constraints

Nutzungsbedingungen: For terms of use, see http://www.dlr.de/eoc/en/Portaldata/60/Resources/dokumente/6_anw_land/CORINE_termsofuse_en.pdf Reference for the use of CLC2006 products in publications: CORINE Land Cover (CLC2006); Federal Environment Agency, DLR-DFD 2009.
Spatial representation type

Grid
Denominator

200000
Metadata language

eng
Character set

UTF8
Topic category

Imagery base maps earth cover
Begin date

2010-01-30
Reference system identifier

EPSG / ETRS89 / LAEA Europe (EPSG:3035) / 8.6
Reference system identifier

EPSG / ETRS89 / UTM zone 32N (N-E) (EPSG:3044) / 8.6
Hierarchy level

Dataset
Domain consistency
Measure identification

INSPIRE / Conformity_001
Conformance result
Date (

Publication

)

2010-12-08
Explanation

Keil, M., Bock, M., Esch, T., Metz, A., Nieland, S., Pfitzner, A. (2010): CORINE Land Cover Aktualisierung 2006 für Deutschland. Abschlussbericht zu den F+E Vorhaben UBA FKZ 3707 12 200 und FKZ 3708 12 200, Deutsches Zentrum für Luft- und Raumfahrt e.V., Deutsches Fernerkundungsdatenzentrum Oberpfaffenhofen, Januar 2010.

http://www.bmub.bund.de/fileadmin/bmu-import/files/pdfs/allgemein/application/pdf/3707_12_200_corine_bf.pdf
Pass

true
Statement
Description
gmd:MD_Metadata
File identifier

efaf05be-b664-4d9a-bdd8-4104ffd999ad  

XML
Metadata language

English
Character set

UTF8
Hierarchy level

Dataset
Date stamp

2017-10-10T13:29:13
Metadata standard name

19115-1:2014/19139
Metadata standard version

1.0
Overviews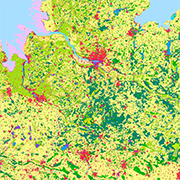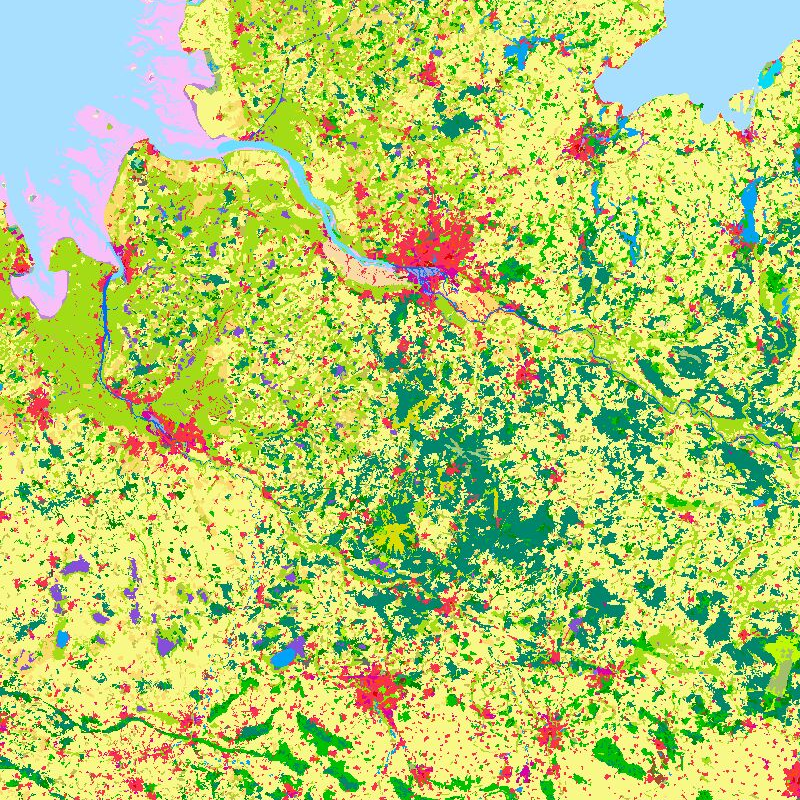 Provided by

efaf05be-b664-4d9a-bdd8-4104ffd999ad
  Access to the portal
Read here the full details and access to the data.
Associated resources
Not available