Processed seismic data of Cruise ARK5/3 1988
In July/August 1988 a seismic reconnaisance survey was carried out with F.S. Polarstern on the perennially ice covered East Greenland shelf between latitudes 73°N and 81°N. The data format is Society of Exploration Geophysicists SEG Y. 14 reflection seismic lines with a total length of 2.016 km and 12 sonobuoy refraction profiles were recorded. The following results were obtained: •On the wide Holm Land shelf province north of 79°N three possible Cretaceous rift basins were observed. •A buildup of layered extrusive basaltic rocks forming a wedge of seaward dipping reflectors underlies the Holm Land continental slope. •On the Northeastern Greenland shelf province the existence of a wide sedimentary basin was demonstrated north of 76°N. •South of 76°N four volcanic structures from the continent to ocean were observed: The zone of Early Tertiary plateau basalts (zone I) that occur landward of an escarpment, a flat lying basaltic flow unit immediately seaward of the escarpment (zone II), an elongate wedge of seaward dipping reflectors (zone IIIa), a basaltic flow unit which in places shows seaward dipping beds of short length (zone IIIb), and the oceanic crust. •Dyke swarms and intrusions of inferred Neogene age were recognized at several locations.
Simple
Alternate title

ARK5/3 1988
Date (

Creation

)

2015-08-02
Identifier

25bd6543-b13c-4b77-b4b7-e39012a6c235
Status

completed

Completed
GEMET - INSPIRE themes, version 1.0 (

Theme

)
GEMET - Concepts, version 2.4 (

Theme

)

geophysics
Geophysik
raw material
Rohstoff
marine geology
Meeresgeologie
Keywords (

Theme

)

seismics
Seismik
two-dimensional seismic reflection
zweidimensionale Reflektionsseismik
MSSP
Keywords (

Place

)

East Greenland
Ostgrönland
Access constraints

Other restrictions
Use constraints

Other restrictions
Other constraints

Allgemeine Geschäftsbedingungen, siehe https://www.bgr.bund.de/AGB - General terms and conditions, see https://www.bgr.bund.de/AGB_en. Die bereitgestellten Informationen sind bei Weiterverwendung wie folgt zu zitieren: Datenquelle: ARK5_1988, (c) BGR, Hannover, 1988
Spatial representation type

Vector
Metadata language

English
Character set

UTF8
Topic category

Geoscientific information
Hierarchy level

Dataset
Conformance result
Date (

Publication

)

2010-12-08
Explanation

siehe dazu die angegebene Durchführungsbestimmung
Statement

During the period from 6th of July to 2nd of august 1988 BGR aquired lines on the East Greenland shelf. The lines ARK5-01, ARK5-02, ARK5-03, ARK5-04, ARK5-08, ARK5-10, ARK5-14 are processed (migrated) data an lines ARK5-05, ARK5-06, ARK5-07, ARK5-09, ARK5-11, ARK5-12, ARK5-13 are processed (stack) data.
gmd:MD_Metadata
File identifier

efe29870-c921-4340-87f2-dfd97185dd86  

XML
Metadata language

English
Character set

UTF8
Parent identifier

06a73c56-06a2-40d8-b806-466222b0760d
Hierarchy level

Dataset
Hierarchy level name

Geophysik
Date stamp

2023-11-14
Metadata standard name

INSPIRE Metadata Implementing Rules: Technical Guidelines based on EN ISO 19115 and EN ISO 19119
Metadata standard version

n/a
Overviews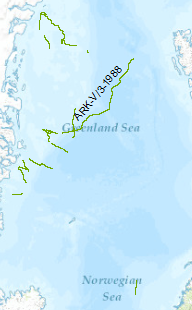 Provided by
efe29870-c921-4340-87f2-dfd97185dd86
  Access to the portal
Read here the full details and access to the data.
Associated resources
Not available